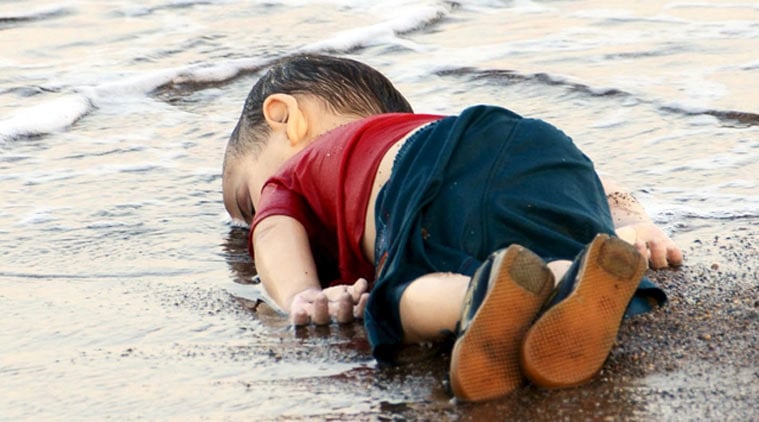 Washed ashore like a seaweed,
the mourning breeze caresses
this wee body no more growing.
We all cut this angel's wings.
Cradled softly by the waves,
carried dead to the promised land,
he met death instead of mercy.
Life denied a helping hand.
His limp limbs, so beautifully tender, still.
His closed eyes kissed so gently by the sand.
Silver ripples crown his head,
- mother nature killed the pauper not the prince -
cold lips, face down, sweet cheeks...
Look at him!
Oh my God, what have we done?
Can't you hear? Can't you hear
desperation crying out loud?
Don't close your ears!
Cries from afar.
Cries sound near.
Relentless the day dies...
Aylan, Aylan,
we've stolen all your smiles.
Sad pic shared by millions
as if it were a meat sample,
but today, just for a day,
this boy's everybody's son.
People weep to wash their shame away:
one more example of world pain.
That's all, folks, that's all.
Innocence lies helpless again.
His childhood dreams
- had he ever had some - drowned.
We gave him this sort of life:
three small years full of fear,
A shameful sea made of tears.
Aylan,
the boy dreaming of an island.
...and tomorrow nobody will remember
this child who will never grow.
My poor little pigeon!
We will never hear your song.
Aylan..., my son...,
cries Allah.
Prayers are not enough
to console our hearts.
Wake up, mother Europe,
wake up!
"Most Christian 'believers' tend to echo the cultural prejudices and worldviews of the dominant group in their country, with only a minority revealing any real transformation of attitudes or consciousness. It has been true of slavery and racism, classism and consumerism and issues of immigration and health care for the poor."
(Richard Rohr)